products & services
#shopsecondhandfirst always in all ways at ...mad lion gallery!
...mad lion gallery is dedicated to sharing the love and admiration of the craftsmanship and style of what once was, offering up a personal collection of wearable vintage clothing and accessories, spanning many decades at affordable price points perfect for gifting, sharing, collecting, or just because!!!


PRODUCTS
...mad lion gallery's mission is to send our vintage wearables out into a new generation of those who have the same fondness and appreciation and the desire to cherish and preserve all things vintage as we have always and all ways


...the bulk of our inventory comes from the owner's private collection thirty-five years in the making


...all items are cleaned and mended but have been pre-loved and are sold as is


...we do our best to keep things at an affordable price, so everyone can have a little bit of history in their wardrobe and closets


...it is always a pleasure seeing a piece sold... finding a new home for that vintage treasure... and putting a little change in our pocket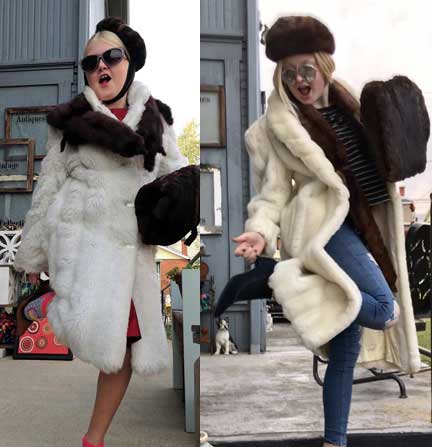 gabby, 2012 / 2020
SERVICES
gift certificates
...not sure what to buy? ...mad lion gallery offers gift certificates for all occasions!!!
personal styling
...mad lion gallery provides a personal styling service for people, places and things... each session is customized to suit your individual specifications and budget... set up an appointment and we will brainstorm!!!
gift baskets and mystery boxes
...our gift baskets and mystery boxes are a great idea for company gifting... bridal showers... birthdays and many other occasions... tell us about the person or people receiving the goodies and we'll build it for you!
bettyna's boudoir
...spice up the moment with a little vintage lace and satin... bettyna's offers the best of our vintage lingerie
his side of the closet
...always a sweet, but curated selection of classic menswear, including retro t-shirts and hoodies, old school button-downs, sweaters, cardies, vintage sports coats, blazers, jackets and more!!!
wholesale
...always ready to bundle!!! please email or facebook messenger
treasure hunters
...seeking that special vintage something but not finding!?! ...let us help ...send us a picture or image and details including price point ...we are out there regularly or we may just have it in our archives!!!
props and costuming
...available for photographers, drama and theater, cosplay, wedding and event planners, stagers, etc.
fund raising, charity, philanthropy and general do-gooding
... please ask if we can help in any way, we will do our best!!!
ash trays,
accessories,
albums,
acrylics,
apparel,
antiques,
angora,
animal figures,
blouses,
bags,
boots,
blazers,
bottles,
buttons, books,
Betty,
baskets,
babyware,
bras,
bustiers,
cardigans,
compacts,
collectibles,
clogs,
cufflinks,
cameras,
cookie cutters,
charms,
cameos,
candlesticks,
cookbooks,
crockery,
costumes,
chiffons,
dresses,
denim,
dolls,
decorations,
disco,
dishes,
Elvis,
epherma,
fur,
funk,
frames,
furnishings,
gowns,
glassware,
jewelry,
jackets,
knits,
kitchenware,
keys,
knick knacks,
keepsakes,
lingerie,
luggage,
linens,
leather,
lace,
milk glass,
magazines,
mirrors,
mugs,
purses,
retro styles,
toys,
trinkets,
...vintage wearables
and such
#fortheloveofvintage #mlgstyle #mlgfavorites